The Good News About Brothers And Sisters: They Can Make You Happier
BY Rosemary Black
DAILY NEWS STAFF WRITER
Friday, August 6th 2010, 4:00 AM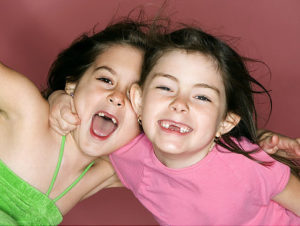 Sisterhood is really powerful. Brotherhood is too, it turns out.
Having a sister or brother promotes happiness and may even decrease negative emotions, according to a study reported by Medical News Today.
The research, from Brigham Young University, came out of the school's Flourishing Families Project and examined nearly 400 families with more than one child.
In all the families in the study, at least one child was between 10 and 14 years old. The researchers interviewed the families once and then a year later, and found that having a sister helped young adolescents avoid feelings of loneliness, guilt and self-consciousness.
"Even after you account for parents' influence, siblings do matter in unique ways," Laura Padilla-Walker, a Brigham Young professor and lead study author, told Medical News Today. "They give kids something that parents don't."
The research, in the August issue of the Journal of Family Psychology, stated that the positive influence of a sister was not affected by how far apart in age the sibs were, or whether that sister was older or younger.
Brothers also are important, the research found, noting that having a sib of either gender was positive and fostered charitable attitudes towards others.
"For parents of younger kids, the message is to encourage sibling affection," Padilla-Walker told Medical News Today. "Once they get to adolescence, it's going to be a big protective factor."
As for sibling rivalry, hostility between siblings is linked to a higher delinquency risk, the study showed, but fights give sibs the opportunity to learn  to compromise and to rein in their emotions, Padilla-Walker said.
"An absence of affection seems to be a bigger problem than high levels of conflict," Padilla-Walker noted.