HOW MUCH IS ENOUGH? – Skill-Based Parent Education Class
Hey Bainbridge parents – here's a great parent education opportunity.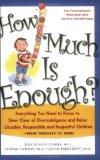 How Much is Enough? is based on Jean Illsley Clarke and others' research and information on overindulgence and includes practical skills on balancing nurture and structure in parenting.   Participants will explore over-nurture and the trouble with coddling, soft structure and the fits of chores, ages and stages of children's developmental needs, and Jean's wonderful nurture – structure parenting highway. Click on the course flyer for more information.