No More New Year's Resolutions For Me!!
I've never had much luck with New Year's Resolutions – I would make them and attempt to adhere to them for maybe a month but eventually I would lose interest. That is until I read Christine Kane's Blog last year and discovered a new twist on the age old tradition of a New Year's Resolution – The Word of the Year!!
I thought, "I can do this, I can choose one word and stick to it all year." Last year it seemed I needed more focus in my life so I chose 'Focus' as my word – that is until I sat with it for a day and realized what I really needed to focus on was being a better listener. So 'Listen' became my word for 2010. And what a word – it showed up in so many ways. My family, my work – and what was wonderful was that I realized  it wasn't just about me listening – it was also about being listened to.
I developed a heightened awareness about how I was listening and how I was talking so that I would be heard. Complicated but pretty simple when you think about it. Fast forward to 2011 and I had to pick another word or stick with the same one. Did I really do the work I needed to do to become a better listener? Nah, but I'm not disheartened because I think this will be my work for many years to come. So, 'Listen' will stay on my vision board, and for 2011 I will add  . . . drum roll please . . . Acceptance!!
But that wasn't the first word I chose. I started out with 'Perseverance' after reading Margaret Wheatley's book, Perseverance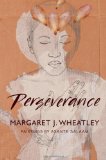 – a great book by the way. As I lived with that word for a couple of days I realized it wasn't a great fit – it didn't have the sustaining power that 'Listen' did. It lacked meaning. And then at dinner one night after a somewhat heated exchange with my daughter, she said my word should be 'Acceptance' – hmmm, really?
So, being the good listener I was, I decided to play with that word for a couple of days and wouldn't you know, it fit – 'Acceptance it is for 2011'. I've only been settled with this for a week, but already I notice I am much more aware of how acceptance or a lack of acceptance shows up in my life.
If you're like me and have trouble sticking with a New Year's Resolution, check out Christine Kane's blog and try choosing a word that truly resonates with you.
Be Well!!